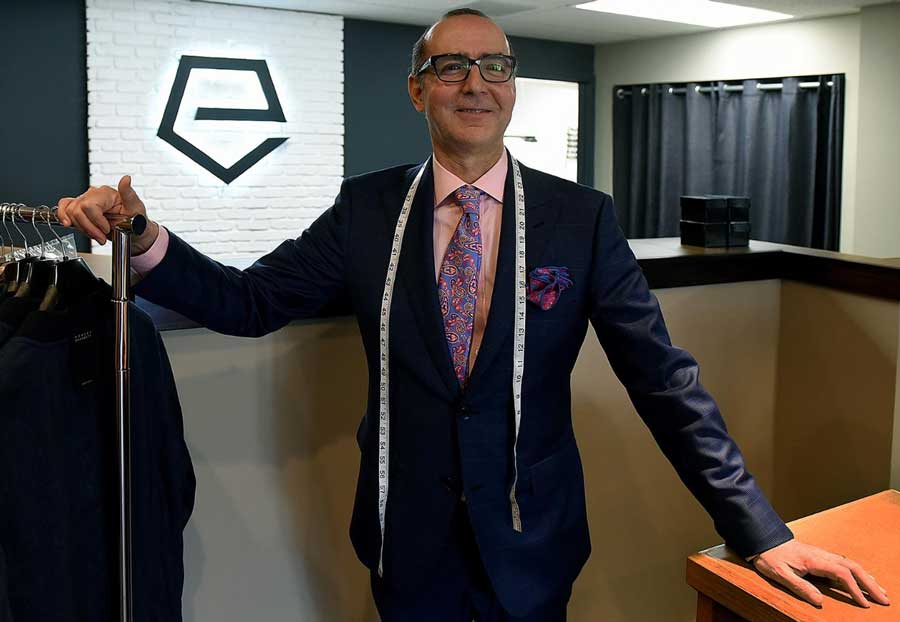 Ed DeSumma of Ernesto Custom Clothiers Featured in Burlington County Times
Edward DeSumma has became a fitting specialist for attorneys, business owners, professional athletes, and even a U. S. Supreme Court Justice after moving the family business to South Jersey.
By Gail T. Boatman / Correspondent Staff Writer
Apr 25, 2018
It's not easy being a well dressed man in today's world. For those who care about how they look, the disappearance of rules and the abundance of choices leads to some agonizing dilemmas.
To wear a tie, or not? Is a suit expected? Something more informal, perhaps. But what? Into this thicket of uncertainty steps Edward DeSumma, proprietor of the newly opened Ernesto Custom Clothiers on Route 70.
He is impeccably dressed in a slim fitting blue suit, softened by a bow tie, bright pocket square and colorful argyle socks. And, of course, the trendiest brown shoes.
An expert in navigating the perilous waters of today's fashion world, DeSumma is the son of Ernesto DeSumma, who founded the custom tailoring business in Philadelphia in the 1960s. When it was time for the younger man to take over, they decided on a move to South Jersey, where the family has long-standing roots. It is also where many of their customers and, they believe, potential customers live.
"The move was a big deal for us, but we already had a customer base here,″ said DeSumma, who lives in Moorestown. He added: "We are fitting specialists; we cater to those who don't buy off the rack.″
Their customers are mainly attorneys, business owners and professional athletes. There has also been a U. S. Supreme Court Justice, whose name DeSumma would not divulge. As unsettling as all the fashion changes have been, the store owner sees a clear path forward. It is part bespoke tailoring, part adjusting to today's desire to be more casual. It's the fit of Saville Row tailoring mixed with boldness and color, he said. At its heart is fine tailoring.
Fit is everything, according to DeSumma, and his tailors, from Italy and Portugal, know how to achieve it. "People think it's either wear a suit, or look sloppy, but that's not the case,″ he said. In the center of the store, a pair of Le Corbusier-style leather and chrome chairs invites customers to sit down and discuss their needs. Bolts of fabric line the walls and a glass of champagne might set the tone.
On certain evenings in the future, a complimentary shoe shine will be offered. In the shop's work room, tailors are ready with their tape measures and sewing machines. A drawer holds a collection of finely crafted, heavy shears, designed for use with different weights of fabric. DeSumma's grandfather was born in Italy and he cherishes the Italian sense of style and love of fabrics.
"If you want to know what the next fashion trend will be, look to Europe,″ he said. Amid all the changes, there is one constant: The suit is here to stay, he said.